April Journal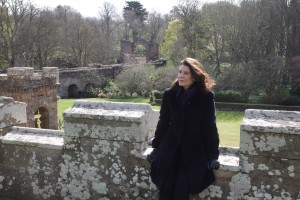 I am getting excited about the release of THE STOLEN CHALICE, June 26.
Final shooting is being wrapped up on the videos that will accompany the book.  This new international adventure novel will chronicle the adventures of Sinclair and Cordelia in a variety of new locations including New York, London, Edinburgh, Venice, and Cairo.
April starts with another destination for me – this time,  Scotland!  I am spending a few days in the romantic (and haunted) city of Edinburgh and also beautiful castle on the west coast of Scotland.  I have visited here in the past and love the moody overcast sky, the dark history filled with drama and intrigue.  It's a perfect setting for a thriller!
Part of my April will also be spent at home in the Hudson Valley.  Gardening is a passion and I am starting to realize that too much time spent traveling is not good  for the garden.  I will grab the shears and tame the overgrowth in time for the May blooms. Wishing you a wonderful spring wherever you are!
Kitty