Published
May 3, 2013
|
By
kitty
MAY
Dear Friends,
May started out with an excursion to Palm Beach to qualify as a PADI certified SCUBA diver.  I went diving with two "legends" in the sport – Lorraine Nelson of Pan Aqua NYC, and Barbara DeClerque of Pura Vida Divers in Palm Beach.  They took me to a lovely underwater spot at the Blue Heron Bridge, teaming with fish and wildlife; we saw an octopus, sea cucumber, angelfish and all kinds of other creatures.
I am working on boosting my diving skills to be able to write my character Cordelia Stapleton with some degree of verisimilitude.  She is an oceanographer, and in the opening scene in The Explorer's Code she is in full dive gear after working on the Alvin submersible at Woods Hole Oceanographic Institution.
Speaking of undersea exploration, I recently attended an event in New York with a brilliant scientist from the Woods Hole Oceanographic Institution, Andy Bowen and the famous filmmaker James Cameron – Cameron has donated his "vertical torpedo" submersible to Woods Hole for future expeditions.  That submersible went down 6.8 miles under the ocean to the Mariana Trench, only the second attempt at that thrilling and unexplored territory.
I plan on staying around New York for much of May, attending various events including the annual Women and Science Luncheon at Rockefeller University – to promote careers for women in the sciences.
Wishing you a wonderful May filled with exciting adventures.
Kitty
Published
March 17, 2013
|
By
kitty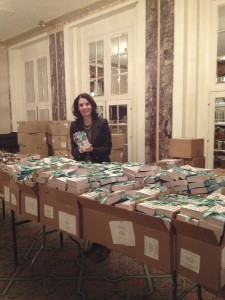 Dear Friends,
March has been so busy!  The Explorer's Code went into the gift bags at the Annual Explorer's Club Gala at the Waldorf Astoria, (more than a thousand copies!) and here you see me with the table full of books, each tied with a pretty green ribbon.
I am in New York for March, researching my new novel and catching up on some interviews for the upcoming release of the paperback version of The Stolen Chalice.  I usually spend the spring in Manhattan – I love St Patrick's Day and always try to see the parade.
Now that spring is here we can all get outdoors a lot more an enjoy the pure pleasure of moving around without all those bulky clothes. New York is vibrant in the Spring.  People are in the park with their dogs, and children play outside in the playgrounds.   I will start to travel again in June so I am trying to find time to enjoy my beloved New York, with opera, music, ballet and all the great museums.
Professionally, I have almost completed the third book in the "Sinclair"series, and am now writing a travel column for New York Resident Magazine.  Almost every day I am plotting new locations for my books.
Wishing you a wonderful Spring!
Kitty 
Published
February 1, 2013
|
By
kitty
February Newsletter
February is one of my favorite months.  It is usually cold and dreary, but right in the middle is one of the most cheerful holidays – Valentine's Day.   We all notice the paper valentines on the racks in the drug stores and supermarkets.  Some decry the holiday as too commercialized, but I believe that declarations of love cannot be a bad thing.
Writing romantic thrillers keeps me conscious of the themes of commitment and emotional connection.  My characters make many mistakes and have quite a few missteps when it comes to their love lives. The Explorer's Code describes the intense love between two people who thought love had passed them by.  The Stolen Chalice is based on the theme of unrequited love.  My next book is about the need for commitment and how hard that can be for some people.
Someone once told me that the only mistake we can make is by not declaring the love we feel.  I agree.  Take this February to reach out and embrace those you love.  It will warm your heart during this cold and dreary winter season.  And please, don't forget the chocolate.
Wishing you and your loved ones a happy Valentine's Day.
Kitty 
Published
January 4, 2013
|
By
kitty
Dear Friends,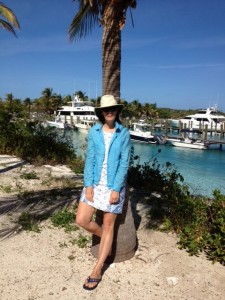 Just after Christmas every year I go to the Bahamas to relax, read, and think up new plot lines for my Characters John Sinclair and Cordelia Stapleton.
This year I left on December 27th for Nassau and then joined the boat at the Atlantis resort and then headed south. We stopped at several islands along the Exumas – a chain of islands.
This picture was taken at lovely Sampson Cay, one of my favorite places. There is a beautiful stretch of beach and a lagoon like swimming area with white sand.
Nearby on another island, Staniel Cay is Thunderball cave from the Ian Fleming James Bond novels. You can scuba in there if the tide is right.
Not every day is filled with adventures like these, and we cant always travel as much as we like. But I find reading about various adventurous places makes my world a lot more interesting.
Even if I am commuting somewhere on a train, I can swim in a grotto in Capri, or ski the Alps, go to a gala in Monaco or dine in Paris. Fiction is the greatest escape. I hope your January is off to a great start.
Wishing you all a healthy and happy New Year.
Kitty
Published
December 5, 2012
|
By
kitty
December 2012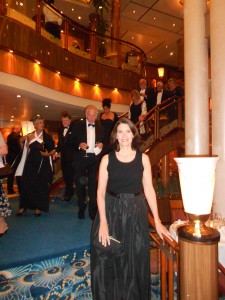 Happy Holidays to everyone.
Christmas in New York is always a treat.  The streets are filled with shoppers and the store windows are true works of art.  Almost every night there is a party, and black tie events make the holiday season special.
I have had many book signings for THE STOLEN CHALICE and THE EXPLORER'S CODE. So many people enjoy giving hard cover books to family and friends. So the adventures of John Sinclair and Cordelia Stapleton are in high demand this season.   One of the great joys of writing is to share it with other people.
I usually spend the first few weeks December in the city, catching up with friends and enjoying the festivities.  But just before Christmas I leave for the country to have some quiet time with my family.  Somehow the silence and serenity gives me the spiritual connection to the real meaning of this time of year.
I wish you all Merry Christmas and Happy Hanukkah.  May your blessings be many, and your heart be full of the joy of the season.
Kitty 
Published
November 1, 2012
|
By
kitty
November 2012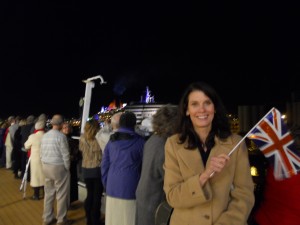 November is another month of travel for me.  I am heading to England on the Queen Mary 2 for research on another Sinclair novel. There will be a lot of Earl Grey tea and Victoria sponge cake to keep me fueled up on my travels.  My research will be at the The British Museum a the location I used for THE STOLEN CHALICE, but I plan on seeing Kensington Palace and the Flinders Petrie Museum also.    Going by ship is the ultimate luxury.  I can write during the day and dress up by night. (every night at sea is a black tie affair).  There will be no John Sinclair on this voyage, I am sorry to say, but I'll keep an eye out.  You never know where he will turn up next.  Have a wonderful November!  Happy Thanksgiving
         Kitty 
Published
October 23, 2012
|
By
kitty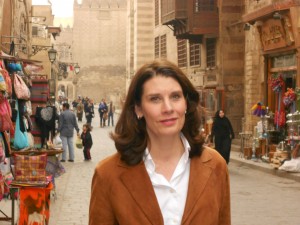 October
October is one of my favorite months.  The third week of the month is when the leaves change in the Hudson Valley.  Suddenly, overnight there are reds and oranges and brilliant yellows.I am finding my writing is becoming vivid as the fall colors. With nature on fire, I am writing about astonishing things.
In the next few days, I am heading off again on more travels. I have just returned from Italy, Greece and Turkey,and now am off to London on a transatlantic crossing on the Queen Mary 2, my favorite way to travel.  Come see the world with me on my new "Travel Journal" on the homepage of the website.   In the meantime wishing you a Happy Halloween.
Kitty 
Published
September 23, 2012
|
By
kitty
September 2012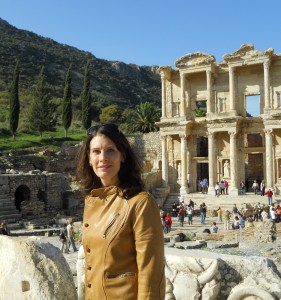 Time to travel again.  September finds me roaming through ancient civilizations, starting in Rome, then visiting the ruins of Herculaneum, and on to Crete, Rhodes Athens and ultimately Israel.
One of the great pleasures in life, is always to return to Ephesus, Turkey where my character John Sinclair has his archaeological dig.  I have always loved these ancient ruins, and feel somehow connected to the civilization that lived here in the First century AD.  This place speaks to my soul.
The life of a novelist is not so different from that of a journalist  except in the things we report.  Looking at the past is so instructive to our present problems.  Perhaps ancient and modern civilizations are not so different after all.
Wishing you a wonderful September filled with new horizons and insights.
Kitty 
Published
August 23, 2012
|
By
kitty
August 2012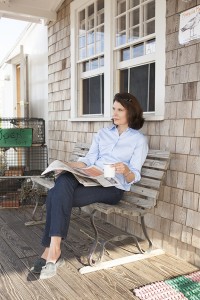 August had always been such a great month for me.  First of all the 14th is my birthday and I give myself permission to do nothing at all.   I don't know about you, but I feel I have to be productive just about every hour of the day most of the year.
Somehow my  "Off Switch" gets flipped in August and I find myself staring at the sky, reading the paper at the Menemsha Market, taking the dog for a very long walk, or just floating in the ocean thinking about nothing at all.
This period of lethargy doesn't last for long but while it does, I enjoy every second.    Wishing you a wonderful August filled with dreamy romance and fantasy of places far away.
Happy Summer.
Kitty  
Photo by Carol Seitz
Published
July 23, 2012
|
By
kitty
JULY  2012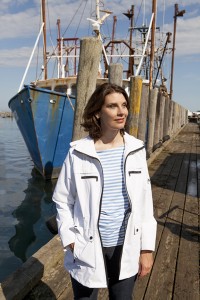 July is a very busy time of year because I launch my novels the week before the big Fourth of July weekend.   My novels are ideal for the beach or travel – great escapist romps – that are prefect summer reads.
I usually do my book tour by boat.  This year we are going to Martha's Vineyard, Boston, Southampton, Nantucket, and parts of the East Coast of the United States that are reachable by boat.
I love meeting my readers, and talking to everyone about their travels. We swap wonderful locations for Sinclair and Cordelia to visit in future novels.  I think one of the most rewarding things about being a writer is all the new people I meet.   Everyone has such a great story to tell, and I spend most of my time in the summer making new friends and collecting ideas for another round of travel in the fall.
Wishing you a wonderful July,
    Kitty
Photo by Carol Seitz