Dear Friends,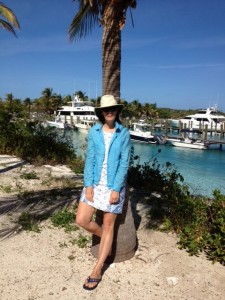 Just after Christmas every year I go to the Bahamas to relax, read, and think up new plot lines for my Characters John Sinclair and Cordelia Stapleton.
This year I left on December 27th for Nassau and then joined the boat at the Atlantis resort and then headed south. We stopped at several islands along the Exumas – a chain of islands.
This picture was taken at lovely Sampson Cay, one of my favorite places. There is a beautiful stretch of beach and a lagoon like swimming area with white sand.
Nearby on another island, Staniel Cay is Thunderball cave from the Ian Fleming James Bond novels. You can scuba in there if the tide is right.
Not every day is filled with adventures like these, and we cant always travel as much as we like. But I find reading about various adventurous places makes my world a lot more interesting.
Even if I am commuting somewhere on a train, I can swim in a grotto in Capri, or ski the Alps, go to a gala in Monaco or dine in Paris. Fiction is the greatest escape. I hope your January is off to a great start.
Wishing you all a healthy and happy New Year.
Kitty