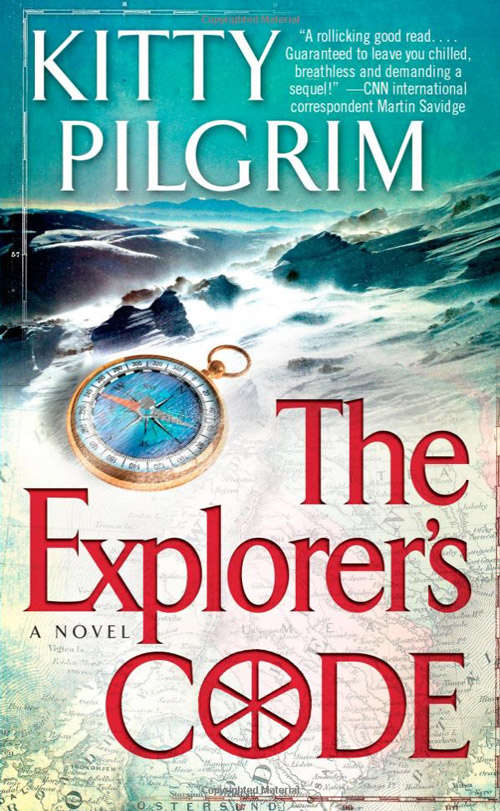 THE EXPLORER'S CODE
A JOHN SINCLAIR MYSTERY BY KITTY PILGRIM
When the prominent young oceanographer, Cordelia Stapleton, is invited to a glamorous gala in Monaco, she has no idea her life is about to change. Wealthy philanthropist, and dashing archaeologist John Sinclair, presents her with the posthumous award for her great great-grandfather, Elliot Stapleton — a famous Victorian polar explorer. She also receives Stapleton's personal journal from 1908, and learns she is heir to a missing land deed – a valuable document that is also sought by consortium of underworld criminals.
Cordelia and John Sinclair team up to search for the deed in some of the most sophisticated and romantic places in the world – the principality of Monaco, a Mediterranean voyage of the Queen Victoria ocean liner, a lavish country estate outside of London and a palatial apartment in Paris. Chased by a gang of ruthless killers, the search continues to exotic locales such as the archaeological ruins of Ephesus, Turkey and the high arctic archipelago of Svalbard, Norway. Along the way Cordelia and Sinclair encounter a team of British virologists trying to decode the genome of the 1918 pandemic, a Russian oligarch and his entourage, a famous supermodel, a world champion fencer, and a cult of religious fanatics. Filled with high adventure, elegant lifestyle, and international intrigue, The Explorer's Code is a welcome addition to the successful tradition of romantic thrillers.

PRAISE & REVIEWS

"This is a powerful mix. International intrigue, medical mystery, and emotional love story in a griping combination. I thought it was great."
—Max Essex, Professor, Harvard School of Public Health and coauthor of Saturday is for Funerals.
"I love a journey filled with adventure, intrigue and twists and turns. In The Explorer's Code Kitty nailed it. Her character development is flawless. Cordelia Stapleton has an irresistible intellect and strength that draw you into each moment, page by page. This adventure surely doesn't disappoint! I'm already looking forward to what's next from Kitty."
— AJ Hammer, Showbiz Tonight, HLN
"By land, by air, by sea…Kitty Pilgrim spins a fast-paced mystery packed with roller-coaster ups and downs and an irresistible heroine like no other – Cordelia Stapleton"
— Nancy Grace, television host and author of Death on the D-List
"A rollicking good read…an intelligent thriller that races from one romantic and exotic dateline to the next, propelled by characters who are smart, sexy, and sinister. A must-read for anyone who loves adventure. Guaranteed to leave you chilled, breathless, and demanding a sequel!"
— Martin Savidge, International correspondent, CNN
"Captivating characters, scientific intrigue, polar exploration, and romantic tension all wrapped up in a mad dash around the world that will leave you breathless! Only Kitty Pilgrim could so deftly bring together this story of Russian oligarchs, the 1918 flu epidemic, St. Paul's Letter to the Ephesians, and the twisted roads of the Cote d'Azure, and the rarified air of the well-heeled into such a vivid and unforgettable novel. I could not put it down."
— Christine Romans, CNN Host and author of Smart is the New Rich
"What a page turner! I always knew Kitty Pilgrim could write down and report the facts. Now she has turned her journalistic skills and keen understanding of the world to pen an exciting novel. The Explorer's Code takes you on a wild ride to exotic places filled with greed, intrigue, suspense and colorful characters – rich beautiful people, villains worth hating. Oh- and the heroes are science geeks! There is nothing more I could ask for from a thriller!"
— Miles Obrien, science correspondent, PBS Newshour
"If there is anyone who can write a sophisticated thriller that takes you all over the world, it's Kitty Pilgrim. She's actually been to the places she's writing about and her characters are people you'll remember for a long time. And did I mention romance? Yes this book has it all – I couldn't put it down."
— Gerri Willis, anchor, The Willis Report, Fox Business Network
"Kitty Pilgrim takes all of her international experience as a journalist and spins an intelligent thriller based on discovery, exploration and real scientists. Her wonderful characters lead us on a merry chase through some of the most glamorous and sophisticated places in the world. I learned a lot and couldn't put it down."
— Paula Zahn, television host, On the Case, Investigation Discovery